How to Stream Netflix Movies and TV Shows on VLC
If you have a vast collection of video files that you want to play, VLC Media Player is the best option. And if you are looking for a program to stream and play online videos, VLC is the best for you yet again! If you want to play the YouTube videos outside of the browser, you just need to copy the link of the video you want and go to VLC > Media > Open Location from Clipboard and press okay. Then you can start playing and downloading YouTube videos to your local drive. Probably, you are wondering if there is a way to get around Netflix's restrictions and do the same thing. What is so depressing is that you can not do the same thing with Netflix video, as you did with YouTube videos.
Since the same method does not work on Netflix, we have figured out another feasible approach to help you download and stream Netflix movies and TV shows on VLC Media Player. This approach is to download Netflix videos to MP4 with the dedicated Netflix Video Downloader, and then open VLC to play the downloaded Netflix videos from your local drive.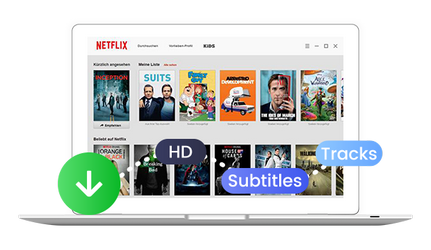 ✔ Download Netflix movies, TV shows documentaries and more
✔ Download Netflix videos with HD (1080p and 720p) quality kept
✔ Support downloading subtitles and audio tracks
✔ Support fast multi-stream and multi-video downloading
✔ Smart search for Netflix movies, TV shows, documentaries
✔ Modern, clean and user-friendly interface
Step 1: Download and install Netflix Video Downloader
Download Netflix Video Downloader on Windows 10, 8, 7, then click on the exe file to install it.
After the installation is complete, you can launch Netflix Video Downloader.
Step 2: Customize the Download settings
Click on the "Setting" button on the upper right corner of the interface, on the prompt, you can customize the download quality to High, Medium or Low, and change the output folder.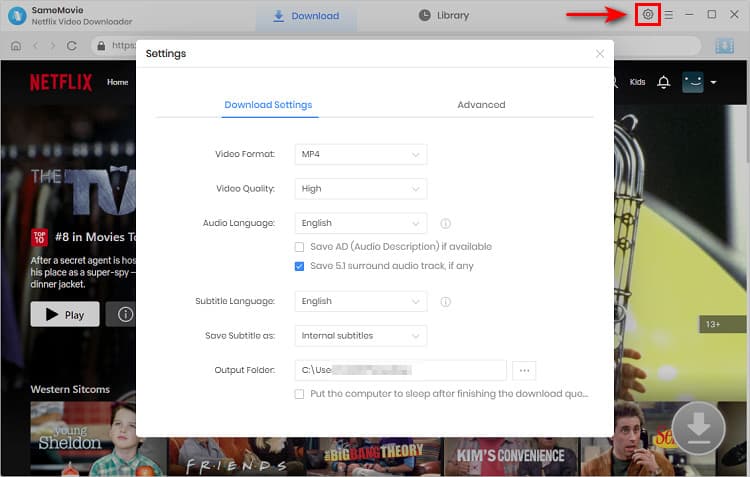 Step 3: Search the Netflix movies or TV shows you want to download
Simply type the movie or TV show you want to download in the search bar, or copy the Netflix video link from the browser and paste the link. Then press the "Enter" key to load all the related videos.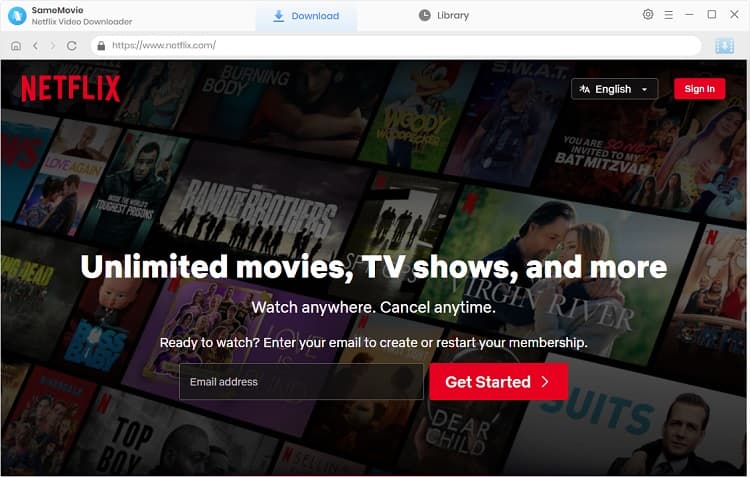 Step 4: Start downloading Netflix videos to PC
After find the title you are interested in downloading, click on the "Download" icon, the program will start downloading the title and save it to the output folder you have chosen in the previous step.
After the downloading is complete, you can click on the "Library" tab on the top to check the well-downloaded videos on local drive.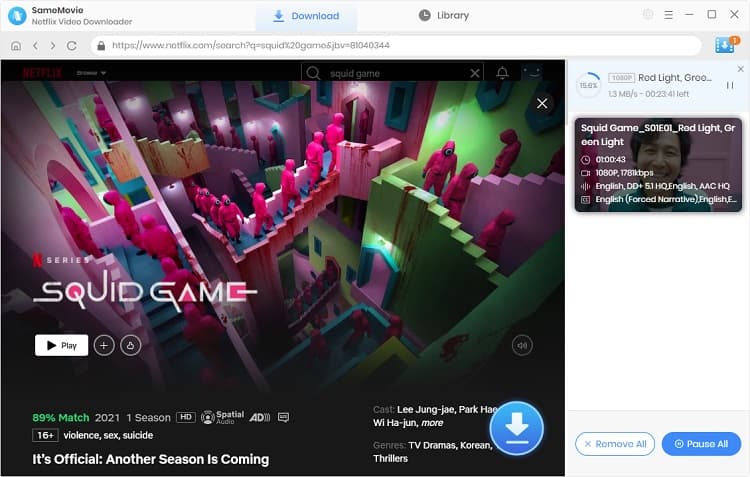 Step 5: Play the downloaded Netflix videos with VLC Media Player
You can right-click the well-downloaded video file and choose VLC on the drop-list of "Open With" to play the Netflix video. Or you can launch VLC media player and click on "Media" -> "Open File", and then click on the "Add" button and choose the downloaded Netflix video to stream.
Video Tutorial: How to Stream Netflix Movies and TV Shows on VLC Media Player
Further Reading: 10 VLC Hidden Features You Might Want to Know
1. Convert Audio or Video Files to Any Format
With the built-in converter, VLC Media Player allows you to convert video and audio files to various file formats. Though VLC is not very professional to handle the heavy conversion jogs, it is still useful for your basic video conversion needs.
2. Play or Download Online Video Files
There are several popular free YouTube video downloaders, including Any Video Converter Free, 4K Video Downloader, Freemake Video Downloader, etc., but you may not yet know that VLC is also capable of downloading videos from YouTube and other more online sites.
6 Ways to Download YouTube Videos to Your PC
3. Record a Specific Part of Current Playing Video on VLC
You can record a part of the current playing video on VLC. With the help of the VLC recording button, you can record any portion of the running video of any duration in just two mouse clicks.
4. Record Your Desktop and Webcam
VLC possesses a superior screen recorder inside that can record the screen activities from your desktop and webcam. Even though VLC does not offer advanced features like other dedicated recorders, it is very easy and convenient for you to share what's on your screen anytime.
Three Ways to Record Videos on Windows
5. Take a Snapshot for Your Video
Watching a movie on your computer or a video, you downloaded from the online sites and wish you could capture a particular frame as a still image for may purposes: cover image, reaction memes, film analysis, snapshots for social media? VLC media player has a way to do so. Use shortcut Shift+S on windows and Linux, whereas OS X users can go ahead with CMD+ALT+S command. The still image will be immediately saved to the respective folder of your video clip.
6. Subscribe to Podcast
Podcast is becoming more and more popular by the day, and you may want to find something for fun, broadening your horizons, or acquiring the knowledge. Fortunately, VLC can be used to stream podcasts, so you not need to find any additional software if you want to listen to podcasts on your computer. You just click the View menu in VLC and select Playlist. Hover over Podcasts in the sidebar, click the + button, and paste the address of a podcast's feed into the box. You can then stream the podcast's episodes from within VLC.
7. Apply Video and Audio Effects
VLC can apply audio effects, video effects, and tweak the way a video's audio and video line up. Click the Tools menu and select Effects and Filters. From here, you can apply an audio equalizer or video effects, such as cropping, rotating, overlaying, or colorizing a video. From the Synchronization tab, you can tweak the way a video's audio and video stream line up. This allows you to fix broken videos where the audio and video are out of sync.
Top 5 Free Video Editing Software for Windows
8. Use a Video Wallpaper
If you have got a favorite video clip you would like to use as a wallpaper on your computer, you are in luck, because VLC also allows you to set a video as your desktop wallpaper, replacing your desktop background with a video. To do this, open VLC's preferences window, click the Video icon, and select DirectX (DirectDraw) video output in the Output box. Restart VLC, load a video, and you'll be able to click the Video menu and select Set as Wallpaper to turn the video into your desktop wallpaper.
9. Add Subtitles to Video
If the video you are playing has no subtitles, you can use VLC to add the subtitles by finding an SRT subtitles for the video and adding it. To add SRT subtitles to a video, you can play a video and go to Subtitle on the menu bar and click Add Subtitle File.
How to Add External SRT Subtitles to Video?
10. Add More Extensions and Plugins
Just like Google Chrome and Firefox, you can extend the functionality and appearance of your VLC Media Player. There are a variety of extensions and skins available on the videolan site. You can take a look to find the one that appears to you.
Related Articles & Tips